Inspirational Quotes and More

Receive your daily dose of inspirational quotes. Visit our blog (click on photo) and take part in quote discussions, view inspirational photos and movie clips, and nourish your mind and soul. Subscribe Today!

"A journey of a thousand miles begins with a single step."
~ Lao Tzu
How to Become a Coach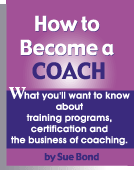 Are you interested in becoming a coach? Our ebooks outline what you'll want to know and find out about while researching the profession of personal and business coaching. These ebooks will save you time and money!

Are you a coach? Help other coaches by providing feedback on the coach training program you've taken.
Learn about Becoming a Coach