Becoming a Life Coach: 20 of Your Top Questions Answered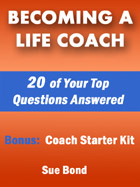 If you're just starting your research of the profession and wondering what coaching is, what it looks like etc, then check out this introductory ebook about the coaching profession. It's available in the Amazon Kindle store.

Amazon.com

Amazon.ca

Amazon.co.uk
How to Become a Coach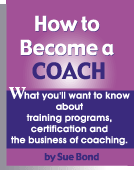 Are you thinking of becoming a coach?

Learn how to sort through the maze of information on training programs, certification and the business of coaching with this resource guide. Save time in your research process!

Click on the ebook cover to learn more!
How to Become a Coach for Therapists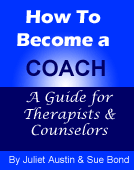 Are you a therapist or counsellor who is thinking about adding coaching to your services or transitioning fully to coaching? Juliet Austin created an addendum for therapists and counsellors that you will receive along with the How to Become a Coach ebook (if you order below). She made a successful transition from therapist to coach and shares her insights in the addendum.

Click on the ebook cover to learn more!
Are You a Coach?
Affiliate Program: If you're a coach who gets inquiries from prospective coaches, consider becoming an affiliate seller of our ebooks.